By Paul Ashton, Psy.D., D.Min.
Consultant to the VIRTUS® Programs
---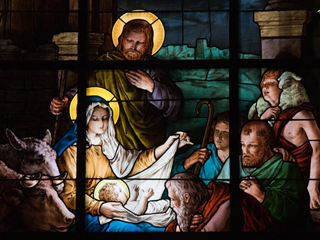 The Baby Jesus with his Mother Mary and with St Joseph are a simple but so luminous icon of the family. The light it casts is the light of mercy and salvation for all the world, the light of truth for every man, for the human family and for individual families. This light which comes from the Holy Family encourages us to offer human warmth in those family situations in which, for various reasons, peace is lacking, harmony is lacking, and forgiveness is lacking.
Pope Francis
Saint Peter Square
28 December 2014
The beautiful season of Advent is upon us once again as an early Christmas gift. Some questions we might want to ask ourselves:
Do we appreciate the four weeks as a time to prepare for the coming of Jesus?

Are we anxious about how much we have to do before Christmas?

Can we put things aside and focus a part of each day and especially on Sundays preparing for Jesus?

Do we make ourselves a priority?
Making a good Advent is a sure and certain recipe for a wonderful Christmas. It is not offered as another burden on your list of things to do at this busy time of year but presented as an offering to enlighten your journey. Advent is not all or nothing; it is everything. Don't worry about making a misstep in the beginning, middle or end of the season—embrace it as a mindful path during the four weeks before Christmas. As a season of preparation anticipating both the first and second comings of Jesus, Advent can best be celebrated by incorporating its themes not only in our weekly liturgies and services but also in as many aspects of our everyday life as possible. Embracing the Advent themes you hear and experience in Sunday liturgies throughout the ebb and flow of your days make the experience joyful, exciting and creative.
Pope Francis points out above that the Holy Family—Mary, Jesus and Joseph, shines forth a light that radiates warmth. This warmth is real and can be seen and touched in the many ways the Holy Family inspires us to be our best selves. From their human example we draw inspiration, and from them we are motivated toward the good—the very light that draws us to them.
During Advent is a good time to pay attention to the persons, places and things in our own lives and families where "peace is lacking, harmony is lacking, and forgiveness is lacking." Instead of dwelling in the darkness, we might be drawn more to the light, however dim. Fumbling in darkness is confusing, disorienting and scary. In the darkness mistakes are made, fear becomes the operative force behind our decisions, which can lead to giving up and not caring. In darkness, there is self-doubt and blaming.
Living in light is just the opposite. Clarity replaces confusion; confidence overcomes fear; joy overtakes dread. The light causes right orientation, firm purpose and a clear direction. In Jesus, Mary and Joseph the light shines forth vividly for all situations in the ways in which they lived.
Joining together in prayer, let us call on the Holy Family of Nazareth this Advent to guide our footsteps, however lost we feel, to a place of light and peace.
Good Saint Joseph, you brought harmony to your holy family through your example of fidelity, hard work and loyalty. Inspire us this Advent to follow your silent yet powerful witness in bringing harmony to all situations we encounter.

Holy Mother Mary, your peaceful way is an inspiration beyond compare. In all things, and in every situation your response was clearly marked by an inner peace, which emanated grace and dignity perfectly. Help us this Advent to embrace peace as a way for ourselves and in all we do.

Sweet Infant Jesus, you brought joy to the world that first Christmas and changed it forever. You answered the prayerful pleas of 4,000 years in one word: love. In all that you did and in every encounter love and forgiveness were paramount. Help us this Advent as we prepare for your coming this Christmas and again at the end of time to embrace forgiveness and love as primary in our own lives. We need you! Come, Lord Jesus, Come!