By Paul Ashton, Psy.D., D.Min.
Consultant to the VIRTUS® Programs
---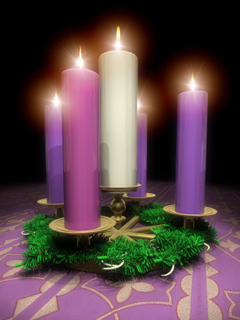 Sometimes it seems as though we spend our lives waiting. Daydreaming about an upcoming vacation, worrying over a medical test, preparing for the birth of grandchild—our days are filled with anticipation and anxiety over what the future holds. As Christians, we too spend our lives waiting. But we are waiting for something much bigger than a trip, bigger even than retirement or a wedding: We are waiting for the return of Jesus in glory. Advent heightens this sense of waiting, because it marks not only our anticipation of Jesus' final coming, but also our remembrance of his arrival into our world more than 2,000 years ago.

—Anonymous

No one likes to wait. It is the dread of all those who travel. It is the horror for children who wait for the school bell, summer vacation or Christmas. Waiting is the albatross that lurks and hangs on all of our necks—most especially when we do not have much time or need to be somewhere else. Waiting in line, online or even near a line can be a cause for upset or frustration. Even the word "traffic" causes immediate anxiety for many people, with empathy for those involved in a car accident (the cause for the delay) can be lacking.

Waiting. People seem to be drawn to things that are hard to obtain. And people that see a line for something assume that the line is for an item that is worth the wait. Walk through any busy airport and observe the lines of fast-food restaurants ready to serve thousands who pass by. There could be 10 restaurants in a row, and most often only one of the 10 has a long and winding line of eager customers, while the other lines may have few to none.

We have all seen the photos of people camping out in the wee hours of the morning well before a store opens on Black Friday for the latest and the greatest gadget. How long did many wait in line for the most recent smartphone? How about those coveted concert tickets for a favorite band or performer?

In Advent we wait, too. You do not see or hear about the lines as much, but we wait nonetheless. We wait in solidarity with the thousands of souls who waited some two thousand years ago for four thousand years. We wait to greet our newborn King each year and welcome him with abundant hearts. And we wait for His final coming again when the world's wrongs will all be made right.

Although Advent waiting is a different kind of waiting, it is extremely serious, yet joyful at the same time. The wait in Advent is not dreaded, but an exciting one filled with hopeful expectation. While we are impatient for it to be over, we know what eventually arrives is joy, excitement and the promise of our innermost dreams fulfilled.

The word "wait" is best defined as being in repose until something expected happens. The wait in Advent is a knowing wait because God has always fulfilled His promises to us. The Advent wait is like a musical fermata—a hold over a beautifully sung note in a lyrical piece. It reminds us of a pregnant pause in finely crafted literature. The wait is always pleasant and worth it.

The poet R.S. Thomas penned, "The meaning is in the waiting." What we do while waiting makes all the difference. As Henri Nouwen writes In Joyful Hope: "Waiting is essential to the spiritual life. But waiting as a disciple of Jesus is not an empty waiting. It is waiting with a promise in our hearts that makes already present what we are waiting for. Waiting for God is an active, alert—yes, joyful—waiting. As we wait we remember Him for Whom we are waiting, and as we remember Him we create a community ready to welcome Him when He comes."

May our wait this Advent be filled with grand anticipation of the things that most prepare us for His coming.


Works Cited
Advent: Waiting in Joyful Hope. In American Catholic online publication. Retrieved from the Internet May 27, 2013: http://www.americancatholic.org/newsletters/cu/ac1103.asp
Copyright 2013 - The National Catholic Risk Retention Group, Inc. All rights reserved.